In a hurry?
Here's the short version:
Your ex is jaded and EXPECTS you to un-impress them with your attempts to change their mind;
The Breakup Dojo re-wires your brain to do what your ex does not expect. Making your position MUCH stronger;
This knowledge upgrade also makes you more charismatic, fascinating, and likeable. Without seeming effort on your part
The net result is you give yourself the best and most strongest position to get your ex back.
Need to know more?
Then keep reading…
Take Back Control of Your Breakup
It's simple, really. You must take back control of your breakup.
Either you are in control, or you are under control.
So…
Here's how I'll help you:
After years of reuniting couples from the most ridiculous situations you could imagine…
I decided to unpack what I do and put it all inside a members-only "hub" called Breakup Dojo.
AND you can access this information right now from your phone or computer…
Breakup Dojo swaps your guesswork with proven ways to:
Stop and reverse your breakup…
Reboot your self-esteem…
And makeup with your ex
And, in just a minute, you can go log-in to receive my clear instructions on what to do to save your relationship.
Sound good?
However, this is expensive.
Not $500/month expensive
(my email coaching rate)
But, it's not trivial.
And not for everyone.
Here's what I mean:
You can buy a PDF of rehashed "tricks" for a lot less.
You can even go watch a few videos for under fifty bucks…
But if you already have? You know the problem.
(they don't work)
If you want your ex to take you seriously, act accordingly.
So, don't skimp…
Besides:
Your ex is expecting you to try the usual moves.
Which is why you must not do what your ex expects!
You must walk a different path to the one they think you will take…
Steal My Ten-Years of Experience Getting Ex's Back for Clients…
See, when you enter the Breakup Dojo, you get the most exceptional —and unusual— breakup reversing methods that exist.
Honed from my experiences working 1-on-1 with clients just like you for over ten years.
Steal my knowledge so you can outwit your jaded ex.
And yes, I'm serious enough to charge enough…
Which means those who dare to work with me are precisely those I made this for.
Like this member: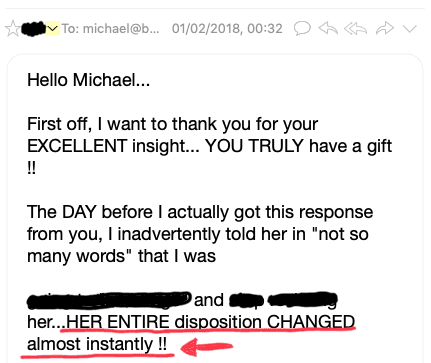 These results are not unusual. But the advice is (…)
Here's a follow up from the same Breakup Dojo member: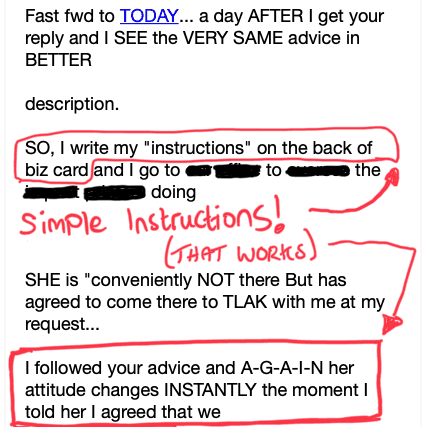 Hey — you either agree or disagree:
When it comes to your heart, you demand the best you can get. You never compromise. And you make sure you always act according to your priorities.
Are You Ready to Fight?
Hey, not everyone wants to fight for their ex.
And only you knows what's at stake.
So… it's you who has to decide.
You tell me… what does this person mean to you?
Think of a happy memory with your ex.
You see it?
If that picture is worth fighting for, then why wait?
.
.
Still here?
I should tell you…
Your First Priority Is You!
Listen —
Your first mission is to put yourself first. Not your ex!
You must "get yourself back" to start with.
It is only after this we will get your ex back.
Get this the wrong way round and watch your ex vanish for good.
If you won't put yourself first, close this page.
My mission is to HELP. But only those who want to be helped, and who will follow instructions need apply.
Actually…
I have two further requirements:
You can imagine a future with your ex in it, and it's a happy vision;
You have SCRUPLES…
Only Good People Wanted
To be perfectly blunt?
I don't want to help the wrong people get what they don't deserve.
I'm serious.
I only work with moral, decent, thoughtful human beings…
(Men and women — this works beautifully whatever your gender or sexual preference.)
The good news is most people who lack "character" are the same people looking for a "shortcut"…
Or a dubious "mind-control tactic."
These folks automatically fail to qualify for the Breakup Dojo. They will chase text templates and the like (which collapse like a cheap $2 folding chair.)
Here's Some of What's Inside:
Find out how long to give your ex before contacting them using my "SUMO Calculator" (Why guess? This tells you how long to go "no contact" for);
Find out what to do when your ex dates other people (My "how to win by cheerfully losing" tip gives you an unfair advantage over the "newcomer";
How to avoid the very common and ugly mistake that makes your ex very SUSPICIOUS about your motives (Do this and you jeopardize your chances);
Why you must not take another step until AFTER you've read my "do's and don'ts for handling your ex" (This is a delicate time. Read these "damage limitation" warnings so you won't make avoidable mistakes with your ex)
Also…
Discover three very specific lessons which put you in a far stronger position to get your ex back (It will take you only 10 minutes to absorb these remarkable lessons, yet the advantage you gain will stay with you a lifetime — I'm serious);
How the "LOP Principle" makes it EASY to know what to say or do (Are you unsure what to say to your ex? Are you worried if the action you're thinking of taking will make matters worse? Not any more. If it passes the "LOP Principle," you will know you can proceed);
How to instantly close-the-gap with your ex —or indeed ANY one else— whether you like it or not (Learn how to "take the wind from their sails" on anyone you use this on… it's bizarrely effective)
And…
If you did something wrong, follow my APOLOGY METHOD so you know WHAT to say and WHEN to say it (Almost everyone gets their apology wrong. Worse, most deliver it at the WRONG TIME rendering it useless);
On FaceBook? You must tread carefully with your social networking. Follow my instructions! (I have a nifty tip for you here with super simple instructions);
Find out how and why to GET YOURSELF BACK before you even pick up the phone to your ex (Hardly anyone talks about this, yet it is the defining moment in YOUR turnaround.. it's how you turn a setback into triumph);
What you MUST do if you ever "cross paths" with your ex before you're ready to (Most people handle such chance encounters poorly. It's the same when their ex calls them on the phone! But not you if you do this..);
14 common errors you really don't want to make (Find out what they are before it's too late)
Or how about…
How to know when you're ready to reconnect with your ex (Mess this up and you'll reset your progress. Get it right and everything becomes much simpler);
Find out exactly how to reconnect with your ex the SMART way (Use "Emotional Temperature Cues" like I explain to guide you, and you won't piss off your ex..);
LEVEL UP: you lost power when you got the elbow. Let's get it back (Find out how you "level up" the playing field);
How to handle your ex's friends & family the smart way (When you bump into your ex's brother, friend, mum, whoever.. what do you do? What if they ask you questions, what do you say? Find out!);
How to deal with your ex when you live or work together (I got specific advice for you if you live or work with your ex. This is a delicate subject (!) so don't overlook this part, OK?);
And there is plenty more…
The core material inside the Breakup Dojo covers much more than I've shared here, so expect a few surprises.
"What if I make a wrong move and lose my ex forever?"
It's true. If you make a wrong move, you could lose your ex forever. However, if you follow my ways, you can significantly increase your chances of saving your relationship:
You'll know what the wrong moves are (so you won't make them);
You'll make progress instead of worrying if what you're about to say or do will push your ex further away. This means you can just get on with it and leave the guesswork behind;
Most people I've helped already made "wrong moves." But with my guidance, they turned things around. If you can read and follow my words, then the same can be true for you (it's rarely too late.)
In 2 minutes from now, you will have access to the most effective "do this, do that" relationship saving advice I know.
"WHAT EXACTLY IS THIS?"
Breakup Dojo is a complete online resource you can access immediately to help end your pain, and win back your ex.
For years I've helped clients return their lives to normal after breaking up.
Clients who had to fight the deep-seated resentment that lived inside their ex.
(Which they didn't even know was there until coming to me.)
Including clients who had to fight off "newcomers" who had moved in on their ex. And succeeded. (…if your ex is already in another relationship, are you confident about what to do?)
Inside Breakup Dojo, you'll finally know how to:
Handle your breakup the right way (so you don't make easy-to-make mistakes which can lose your ex forever);
Manage your heartache correctly (so you don't lose yourself in the process);
Get strong and independent no matter what happens (even if you decide you don't want your ex);
Save your relationship using a refreshingly simple system (based on emotional temperature cues.)
There are extras inside Breakup Dojo as well.
If you can follow my steps, the likelihood your ex will forget about you and move on… shrinks considerably.
PLUS: as my system evolves, so too will the Breakup Dojo. And I'm continually refining the process. That means YOU benefit from new groundbreaking discoveries as they happen.
Breakup Dojo Has Two Membership Levels: Regular and Premium
You have two options when you join.
—Regular or Premium—
Regular is marginally less expensive. It gets you everything described above. It's fantastic. But premium is better…
Premium gets you access to UNFAZED — an entire course delivered by email to your inbox over 25+ days.
Suffice to say: UNFAZED is a product I sold for $197 in the past. And it got rave reviews… so be excited.
The UNFAZED Daily Email Course
Where do I start?
The UNFAZED email course is ONLY available to premium members. There is no way to get it later on if you change your mind.
This is your one shot.
Look. You WANT this. Because I swear, you'd be annoyed to miss it.
UNFAZED is a transformative opportunity for you. This is an entire course in itself. Delivered through DAILY EMAILS direct to your inbox.
This email series is designed to gradually shift your old, possibly flawed paradigm for a brand new perspective on life.
TIP: your ex does NOT want to be with the SAME person they broke up with, so use UNFAZED to ensure that doesn't happen.
Understand…
UNFAZED was originally a course I sold for $197-00. And while it was aimed at a different problem (a close relative of "the break up,") it only required a tweak to perfectly match it to the heartache of a breakup.
This is why I can "throw" it in with the premium membership. The hard work has already been done on this course.
Again… the version you get here is not a reduced version. It's the full deal, edited to compliment your Breakup Dojo membership.
This unusual (in a good way) email course is designed to "unfaze-ify" you. That is, to shift you little-by-little into a "I'm not bothered" imperturbable human being. A hugely magnetic quality by the way (hint hint.)
Less "I want, I WANT, I WANT!" and more "I prefer, but I will be OK whatever happens…"
Even if you only shift A LITTLE in that direction, the payoff is IMMENSE.
UNFAZED has some big lessons within it. And it's going to help you be a better, calmer, "got your shit together" person WHATEVER the outcome of what happens next in your life.
Fact is…
Those who suffer the most are also those who end up having the most to offer others. True growth is born from adversity. That's just how it is. But it is not automatic. It must be nurtured. It has to be deliberately sought…
UNFAZED is 20,000+ words delivered over a 25-30 day period in your inbox. And it's gold.
Bottom-line: UNFAZED makes the premium membership option great value.
Oh, I almost forgot to mention:
Breakup Dojo Is a One-Time Payment Deal; Not a Recurring Monthly Program
I know this can get complicated, so let's do a "things you should know" breakdown…
Here are three things to know about this:
It's easy to access from your phone, tablet, or PEE-CEE :-)
It's entirely digital so you can get at ALL the information immediately, and start now.
It's continuously updated: It's not uncommon while working with clients that I uncover NEW and different ways to achieve their goal of surviving the breakup and saving the relationship. Such discoveries will be added to "the vault" overtime to ensure the Breakup Dojo is always the place where I share my best training discovered to date.
And here are three things the Breakup Dojo is NOT:
It's NOT another monthly expense for you to budget for (there is NO recurring billing, you pay ONCE and get access for LIFE.)
It's NOT a collection of cheap tricks rehashed from other people's dirty tricks… no way.
It's NOT a collection of PDF documents that you'll lose or find its content out-dated down the road (plus they're kinda hard to read if you're on your phone…)
Shh: if YOU prefer PDF though? Let me know, and I'll hook you up.
"Just a quick to say that in a sea of get back with your ex courses it's nice to see a course that is ethical and doesn't treat their ex like a pawn in some game. A course that offers a dignified and conscientious collection of strategies as well as daily emails that are often equal to or even better than the content on your site.

I haven't taken you up on your offer to email you questions because between your course and the daily emails you seem to have all the bases covered but I just wanted to say good on you for doing the right thing by the couple rather than the right thing for the one who was dumped!

PS I'm a coach and also write courses as well as book which is due out soon so some friendly advice, you need to charge more for your content" — Umech Patel
I wanted to write you back and tell you that your "get your ex back" program is the only program that I will not ask for a refund back, but all the other programs I have bought did not click with me. I like your writing style better than anyone else's and women that write "get your ex back" programs are too sappy for me. I needed a program from a man's perspective, and a lot of men have programs that I have read but I requested a refund from them because I kept going back to your program. Your writing style clicked with me — Sarah
IS IT FOR YOU?
The fact is, the Breakup Dojo is not for everyone.
It's not for people who can't be bothered to put in the work. Who won't focus. Or implement. Or who are just looking for excuses for why "it" won't work for them…
It's also not for those on a tight budget. So don't get into debt just to join. OK?
And if you don't have a good moral foundation, and if you're not capable of imagining (and caring) how others feel, I don't want you to join.
I'm sure there's a place for you… just not here.
This is for SERIOUS people only. If that's you, let's get to work.